Central Banks in US, Japan Leave Interest Rates Unchanged
2016-06-17 21:00:38
---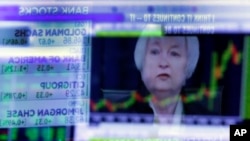 ---
Central banks in two of the world's largest economies – the United States and Japan -- left interest rates unchanged this week.(1)
中央银行在两个世界上最大的经济体 — — 美国和日本 — — 离开利率不变这一周。
In the United States, the Federal Reserve left the main interest rates it controls at their current levels.(2)
在美国,美联储利率主要它控制在现有水平。
The Federal Open Market Committee decides the U.S. government's monetary policy.(3)
联邦公开市场委员会决定,美国政府的货币政策。
The committee's members met for two days in Washington, DC.(4)
委员会的成员举行了两天在华盛顿特区。
Federal Reserve chief Janet Yellen spoke to reporters Wednesday after the meetings.(5)
美联储首席珍妮特 · 耶伦星期三在会议之后对记者发表讲话。
"Today, the Federal Open Market Committee maintained the target range for the federal funds rate at one-quarter to one-half percent."(6)
"今天,联邦公开市场委员会继续保留在四分之一到半个百分点,联邦基金利率目标区间。
Yellen said the Federal Reserve System, called the Fed for short, will use care when making decisions.(7)
耶伦说,美国联邦储备系统,简称美联储,将利用护理决策时。
"Recent economic indicators have been mixed, suggesting that our cautious approach to adjusting monetary policy remains appropriate."(8)
"最近的经济指标好坏参半,暗示我们谨慎调整货币政策仍然适当。"
She added that the central bank will make small changes, when necessary, to improve economic policy.(9)
她补充说,中央银行将小的变化,必要时,要提高经济政策。
She noted that U.S. employment and economic growth numbers have not met the Fed's expectations.(10)
她指出,美国就业和经济增长数字有不符合美联储的期望。
But she warned against short-term judgements.(11)
但她警告反对短期评断。
"Although recent market data have been on balance disappointing, it's important not to overreact to one or two monthly readings."(12)
"虽然近期市场数据一直令人失望的平衡,它是重要的不是对一个或两个月的数据反应过度"。
Some observers say the central bank missed several chances to raise interest rates earlier this year.(13)
一些观察家认为,中央银行错过了好几次的机会,今年早些时候提高利率。
Greg McBride of Bankrate.com told VOA on Skype that the Federal Reserve needs to raise rates soon.(14)
Bankrate.com 格雷格 · 麦克布赖德对美国之音说,在美联储需要很快加息的 Skype 上。
But others say the Fed could raise interest rates not once, but twice later this year.(15)
但也有人说,美联储可能提高利率,不是一次,但两次今年晚些时候。
However, the U.S. presidential election could make the decision more difficult.(16)
然而,美国总统选举作出的决定更难。
Ken Simonson is with the National Association for Business Economics.(17)
肯 · 西蒙是与商业经济学国家协会。
He says any move to change rates before the election could be criticized as an attempt to influence the vote.(18)
他说 ︰ 任何移动之前选举可能会被人批评为企图影响投票更改率。
Japan also leaves interest rates where they are(19)
日本也只剩下利率他们在哪里
In Japan, stock prices went down on Thursday while the value of Japanese money against the U.S. dollar went up.(20)
在日本,股票价格下跌了周四而日本货币兑美元的价值上升。
Traders reacted after Japan's central bank left its monetary policy unchanged.(21)
交易商反应后日本的中央银行让其货币政策不变。
Bank of Japan Governor Harukiko Kuroda said "Japan's economy is likely to expand moderately as a trend."(22)
日本银行行长 Harukiko 黑田东彦说"日本经济可能适度扩大作为一种趋势。
The bank inaction was widely expected. However, the rising exchange value of the yen against the dollar this year was not.(23)
普遍预期银行不采取行动。然而,日元兑美元汇率升值今年不是。
Concerns about Britain possibly withdrawing from the European Union have caused the yen to strengthen on international currency exchanges.(24)
担心英国可能退出欧洲联盟有导致日元在国际货币交易所加强。
On Friday, the Japanese yen closed at more than 104 yen to the dollar in Asian trading. That is its highest level since 2014.(25)
上周五,日元收盘超过 104 日元对美元在亚洲交易时段。这是最高水平以来 2014年。
A government spokesman in Tokyo said officials are watching the currency market.(26)
日本政府发言人说,官员正密切关注外汇市场。
A high value for the yen can hurt Japanese exports, an important part of the country's economy.(27)
日元的较高值可以伤害日本出口,该国经济的重要组成部分。
Tobias Harris is vice president of the research group Teneo Intelligence.(28)
托比亚斯哈里斯是 Teneo 情报研究集团副总裁。
He said he does not think the government will take action to reduce the value of the yen.(29)
他说他并不认为政府会采取行动,减少日元的价值。
He said the U.S. presidential campaign also appears to be influencing the Japanese government.(30)
他说 ︰ 美国的总统竞选似乎也会影响日本政府。
Businessman Donald Trump, the likely candidate of the Republican Party, has criticized Japan's monetary policy.(31)
商人唐纳德 · 特朗普,有可能的候选人的共和党,批评日本的货币政策。
During the campaign, he accused Japan of keeping the value of the yen low to make its exports competitive in foreign markets.(32)
在竞选中,他指责日本日元低值保持在使其出口商品在国外市场上的竞争力。
Harris said, "The Abe administration will do whatever it can to talk down the yen; it will use other tools to boost demand."(33)
哈里斯表示,"安倍晋三政府将尽其所能贬低日元;它将使用其他工具来刺激需求。
But, he added, "I don't think Tokyo will intervene before the U.S. presidential election."(34)
但是,他补充说,"我不认为东京将在美国总统选举之前进行干预。"
The yen has increased in value by more than 13 percent against the dollar this year.(35)
日元已价值今年增加了 13%以上,对美元的汇率。
It is also now trading on high levels with the British pound, the euro and the Australian dollar.(36)
它现在也在高水平与英镑、 欧元和澳元兑美元的交易。
The troubling numbers show the difficulties faced by Prime Minister Shinzo Abe and his efforts to increase economic growth.(37)
令人不安的数字显示首相安倍晋三和他努力促进经济增长所面临的困难。
His three-part plan includes making more money available to Japanese banks, increased government spending and reforms.(38)
他的三个部分计划包括到日本银行、 增加的政府开支和改革提供更多的钱。
But experts say the Bank of Japan alone cannot get the economy going again.(39)
但专家说,单单日本银行不能再走经济。
I'm Mario Ritter.(40)
我马里奥里特。
All Articles fetched from Voice of America RSS (Really Simple Syndication) feeds and copyrighted by voanews.com