Shenandoah: A Western-Style Park in the East
2016-11-11 21:17:39
---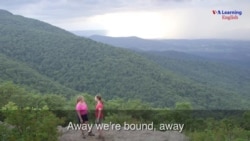 ---
This week on our national parks journey, we visit a mountainous landscape on America's east coast.(1)
本周我们国家公园的路上,我们拜访美国东海岸多山的地形。
Within the park are rocky peaks, rolling green hills, and spectacular waterfalls. It is also home to hundreds of black bears.(2)
公园内有多岩石的山峰,起伏的绿色山丘和壮观的瀑布。它也是黑熊数百家。
Welcome to Shenandoah National Park in the state of Virginia.(3)
欢迎到弗吉尼亚州谢南多厄国家公园。
Shenandoah sits in the heart of Blue Ridge Mountains. The mountains are part of the larger Appalachian Mountain range.(4)
谢南多厄坐在蓝岭山脉的心。山是较大的阿巴拉契亚山脉的一部分。
The park's hiking trails, waterfalls and wildlife appeal to nature-lovers and adventurers.(5)
公园的远足径、 瀑布及野生动物自然爱好者和冒险家的呼吁。
Driving on top of the mountain(6)
在山顶上驾驶
Shenandoah National Park is perhaps best known for the road that goes through it: Skyline Drive.(7)
谢南多厄国家公园也许是最出名的是它所经历的道路︰ 天际线驱动器。
Skyline Drive runs nearly 170 kilometers north to south. It is the only road in the park.(8)
天际线驱动器运行近 170 公里,北到南。它是在公园里的唯一道路。
There are more than 70 overlooks along the way, where people can pull their car off the road.(9)
有超过 70 俯瞰一路走来,可以拉人的他们的车停在路边。
These overlooks provide visitors with beautiful views of the Shenandoah Valley.(10)
这些可以俯瞰提供游客雪兰多山谷的美丽景色。
The road was built in the 1930s, at a time when the automobile was becoming popular.(11)
这条路始建于上世纪 30 年代,当汽车变得流行一次。
Shenandoah's north entrance lies less than 120 kilometers from Washington, D.C.(12)
谢南多厄的北入口说谎少于 120 公里从华盛顿特区
Early planners wanted a major national park like those in the American West here on the East Coast, close to big cities.(13)
早期的规划者想要像那些在东海岸,靠近大城市的美国西部主要的国家公园。
In fact, Shenandoah was described as "an Eastern park in the Western tradition."(14)
事实上,谢南多厄被形容为"东部的公园在西方的传统"。
And, early park planners wanted Skyline Drive to be "the single greatest feature" of the park.(15)
而且,早期公园规划想天际线驱动器是公园"的单一的最大特征"。
Denise Machado is a park ranger at Shenandoah.(16)
丹尼斯 · 马查多是在谢南多厄公园护林员。
She explains that the park soon became a place for people to escape the noise -- and heat -- of big cities.(17)
她解释了公园很快成为一个地方的人为了逃避大城市的噪音 — — 和热 — —。
"It was created just so people could kind of get away, a place to escape the big city hustle and bustle.(18)
"它被创造只是使人们可以种逃脱,逃离大城市的喧嚣和热闹的地方。
Pre-air-condition days, this was the place to be.(19)
Pre-air-condition 天,这是好地方。
The temperatures were about 10 degrees cooler up here on the mountain."(20)
温度是 10 度左右凉快点在这里的山区。
But, Shenandoah's history is not without controversy.(21)
但是,谢南多厄的历史也并非没有争议。
To create the place that park planners envisioned, many families were forced to leave behind properties in the Blue Ridge Mountains.(22)
规划设想,打造地方那个公园,许多家庭被迫留下了蓝脊山脉中的属性。
Shenandoah National Park was formed from more than 3,000 individual land purchases.(23)
谢南多厄国家公园成立从购买个人土地超过 3,000。
They were presented to the federal government by the Commonwealth of Virginia.(24)
他们向联邦政府提出了弗吉尼亚联邦。
Shenandoah officially became a national park in 1936..(25)
谢南多厄于 1936 年正式成为一个国家公园。
Today, most of the buildings and structures that once stood in the area are long gone.(26)
今天,大多数的建筑物和结构的一次站在该地区已经不复存在。
But, you can find some signs of the past. A log building called Corbin Cabin still stands.(27)
但是,你可以发现一些过去的迹象。日志建筑称为 Corbin 舱仍然站立。
George Corbin, who built the log structure, was forced to leave the land in the late 1930s, just after the creation of the national park.(28)
乔治 · 科尔宾建立日志结构,被迫离开土地在 1930 年代后期,只是后建立的国家公园。
Today, the cabin is operated by the Potomac Appalachian Trail Club. The club permits people to rent the cabin.(29)
今天,小木屋是由波托马克阿帕拉契小径俱乐部经营。俱乐部允许人们租的小屋。
Hiking Shenandoah(30)
徒步旅行谢南多厄
Shenandoah National Park has more than 800 kilometers of hiking trails.(31)
谢南多厄国家公园有超过 800 公里的远足径。
They take visitors to rocky mountain peaks, grassy meadows, and forested canyons.(32)
他们带游客到岩石山峰、 草牧场和森林的峡谷。
Hikers are especially drawn to the park's famous waterfalls.(33)
特别是,徒步旅行者被吸引到公园的著名瀑布。
"The waterfalls are definitely the most popular. We have nine waterfalls.(34)
"瀑布是绝对是最受欢迎的。我们有九个瀑布。
Dark Hollow Falls is our most popular. It's a beautiful waterfall, it's a 70-foot waterfall. It 1.4 mile hike round-trip. It follows along a stream.(35)
黑暗空心瀑布是我们最受欢迎的。它是一个美丽的瀑布,它是 70 英尺的瀑布。它 1.4 英里徒步往返。它沿着一条小溪。
And you're right at the base of the falls and you're looking up and you can feel the spray. It's a really great experience."(36)
你说得对在瀑布的底部和您正在查找你可以感受到这种喷雾。它是一个真正伟大的经验。
Grace Williams hiked to Dark Hollow Falls with her daughter on her birthday.(37)
格雷斯 · 威廉姆斯徒步旅行到黑暗空心瀑布与她的女儿她的生日。
"My daughter's gift for me to bring me to the national park.(38)
"我女儿的礼物,我把我带到国家公园。
And it's on my bucket list. I always love falls, I like the sound. The water is refreshing.(39)
它在我的人生目标清单。我总是爱瀑布,我喜欢的声音。水是令人耳目一新。
So, they did tell us it's kind of like a moderate hike. I do have knee problems, but I just wanted to challenge it, and I'm glad I came. It's beautiful."(40)
所以,他们还告诉我们它是有点像温和的徒步旅行。我手边的膝盖问题,但只是想要去挑战它,和我很高兴我来了。"是美丽的。
Another of Shenandoah's famous hikes is called Old Rag. It is almost 15 kilometers long.(41)
谢南多厄的著名上涨的另一种叫老抹布。它是长达 15 公里。
To get to the top of Old Rag Mountain, hikers must scramble up large rocks. It is a long and difficult hike.(42)
去顶旧抹布山,徒步旅行者必须爬上大石头。它是一次漫长而又艰难的徒步旅行。
But, the views from the top bring hikers from all across the country and world.(43)
但是,从顶部的意见带给从全国和世界各地的登山者。
Because it is close to many big cities, Shenandoah's trails are often crowded with people. More than 1 million people visit the park each year.(44)
因为它是许多大城市接近,谢南多厄的创新往往挤满了人。每年超过 100 万人参观了公园。
Although Shenandoah was created to be an easy escape from big East Coast cities, today it sees visitors from all over the world.(45)
虽然谢南多厄为了从东海岸的大城市很容易逃脱,今天看到来自世界各地的游客。
"It's amazing how many people you meet that come from far-flung countries and corners of the world. We've had people from Africa.(46)
"它很棒的多少人你满足来自于遥远的国家和世界的角落。我们已经有来自非洲的人。
We get a lot of people from Germany, France, Sweden, Netherlands, so you just never know where they're going to come from. ".(47)
咱们有很多的人从德国,法国,瑞典,荷兰,所以你只是不知道他们去哪里来的。".
Machado says summer and fall are the most popular times to visit the park.(48)
马查多说,夏天和秋天最流行的时代,去公园玩。
While summer is a good time to enjoy the waterfalls, the fall brings beautiful autumn colors.(49)
夏天是很好的时间欣赏瀑布,秋天带来了美丽的秋色。
In the middle of October, the trees begin to lose their leaves.(50)
十月中旬,树木开始落叶。
The leaves change from green to different shades of yellow, orange, and red as winter approaches.(51)
树叶由绿变到深浅不一的黄色、 橙色和红色随着冬季的来临。
On weekends in October it can take up to two hours just to get into the park.(52)
上周末在 10 月中它可以两个小时就能进入公园。
Shenandoah's black bears(53)
谢南多厄的黑熊
Visitors to Shenandoah National Park have a good chance of seeing a black bear. The park is home to between 400 to 600 black bears.(54)
游客到谢南多厄国家公园有好的机会,看到一只黑熊。这个公园是回家到黑熊 400 到 600 之间。
It has one of the densest black bear populations of any national park.(55)
它有任何国家公园的人口密度最大的黑熊国家之一。
Denise Machado knows a lot about these black bears. In fact, her nickname is "the bear lady."(56)
丹尼斯 · 马查多懂得很多关于这些黑熊。事实上,她的绰号是"熊夫人"。
"Well, I am known in Shenandoah as the bear lady. I see a lot of bears every season. I'm in the park early in the morning and late in the evening.(57)
"好吧,我被称为在谢南多厄熊女士。我看到很多的熊每个季节。我在清晨和深夜在公园里。
I see anywhere from 400 or so bears every year.(58)
每年,我从 400 左右熊看到任何地方。
And, it's wonderful to see. I never get tired of seeing them. They are all different and they are all special."(59)
,它很高兴看到。我永远不会厌倦看到他们。他们都不同,他们是所有特别。"
Machado gives visitors advice for what to do if they see a black bear.(60)
马查多给游客怎么办如果他们看到一只黑熊的建议。
"So, if you see a bear, you want to clap your hands, you wanna say 'Hey bear! Hey bear!' They really don't like to be startled.(61)
"所以,如果你看到一只熊,你想拍拍你的手,你想说 ' 嘿熊 !嘿,承担 ! '他们真的很不喜欢被吓了一跳。
You don't want to try to sneak up on them to get a photo or anything. You want to make sure that they are totally aware you are there."(62)
你不想尝试偷袭他们得到一张照片或任何东西。你想要确保它们完全知道你在那里"。
Malachi and his older brother Brent visited Shenandoah National Park with their parents. The family traveled here from Cincinnati, Ohio.(63)
玛拉基书和他的哥哥布伦特和他们的父母拜访谢南多厄国家公园。家庭从辛辛那提,俄亥俄州来到这里。
The family hiked the Little Stony Man Trail. Along the way, they came upon a black bear.(64)
家庭徒步小石头人跟踪。一路上,他们来到一只黑熊。
"I really liked how we could see the animals. We saw a really big bear.(65)
"我真的很喜欢如何我们能看到的动物。我们看到真正的大熊市。
And he was really friendly and he didn't do anything. And he was just eating."(66)
他很友好,他没做任何事。而他只在吃。
The park's bears and other wildlife are a big part of what attracts so many visitors to Shenandoah.(67)
公园的熊和其他野生动物是什么吸引了这么多游客到谢南多厄的很大一部分。
Carol Bair and her husband visited the park from York, Pennsylvania.(68)
卡罗尔 · 拜尔和她的丈夫从纽约,宾夕法尼亚州参观了公园。
She said visiting Shenandoah is "like a breath of fresh air."(69)
她说︰ 前往谢南多厄就像""呼吸新鲜空气。
"It's just quieter. You hear the birds. You look at trees different. The wind blowing through the fields, it's just really neat."(70)
"这是只是安静的。你听到鸟。你看看不同的树木。风吹过的领域,它是真的很整洁。
I'm Ashley Thompson.(71)
我是阿什莉 · 汤普森。
And I'm Adam Brock.(72)
我是亚当布洛克。
All Articles fetched from Voice of America RSS (Really Simple Syndication) feeds and copyrighted by voanews.com