Cirque du Soleil; Nuns Who Make Cheese; Music of Teens
2012-10-04 23:32:30
---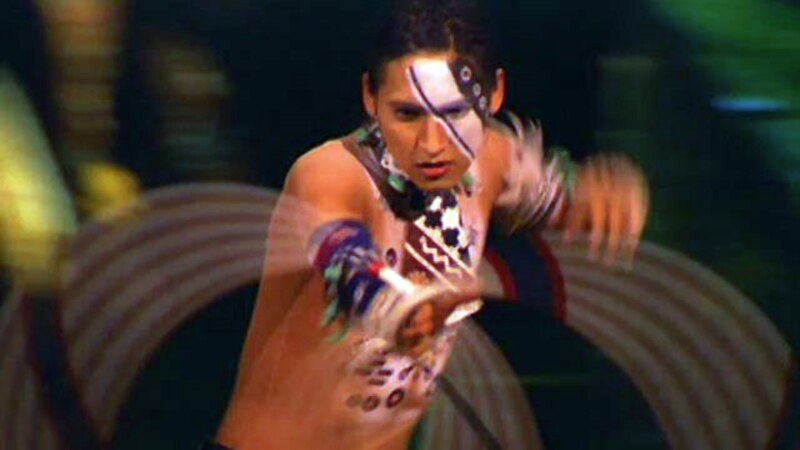 ---
Welcome to AMERICAN MOSAIC in VOA Special English.I'm June Simms.(1)
欢迎来到美国花叶病是美国之音特别英语我 6 月 Simm。
On our show this week, we play some music suggested by a few iPod armed teenagers.(2)
这周我们的节目,我们玩一些建议的几个武装的 iPod 青少年的音乐。
We also explore cheese making as a religious experience.(3)
我们也探讨作为宗教体验制作的奶酪。
But first, we go to the circus.(4)
但首先,我们去看马戏。
Cirque du Soleil "Totem"(5)
马戏团"图腾"
Cirque du Soleil has been entertaining people around the world for almost thirty years.(6)
Du Soleil 娱乐世界各地的人们已经将近三十年。
Today, the Montreal-based company has 20 different shows, offering a mix of acrobatic tricks, clowns, music and dance.(7)
今天,蒙特利尔的公司拥有 20 不同的节目,提供多样化的杂技、 小丑、 音乐和舞蹈。
Some shows have permanent homes in Las Vegas, Orlando and Los Angeles. Others travel from city to city.(8)
一些节目已在拉斯维加斯、 奥兰多和洛杉矶的永久性住房。其他旅行从一个城市到另一个城市。
Mario Ritter takes us to the Circus of the Sun on its stop near Washington, DC.(9)
欧瑞把我们带到其停止,华盛顿附近的太阳马戏团。
The travelling show is called "Totem." It explores the development of human civilization.(10)
巡回展览被称为"图腾"。人类文明的发展进行了探讨。
Twenty-year-old Shandien Larance is a Native American hoops dancer and one of the show's performers.(11)
二十多岁 Shandien 缤纷是美国本土箍舞蹈演员和节目的演员之一。
"I am Hopi Tewa Assiniboine and Navajo. I come from Arizona and New Mexico. I've been hoop dancing for about ten years."(12)
"我是霍西南方阿西尼博因和纳瓦霍人。我来自亚利桑那州和新墨西哥。我去了舞蹈 10 年左右的箍。"
Shandien Larance uses the hoops to change her appearance during the dance.(13)
Shandien 缤纷使用箍来改变她在跳舞的外观。
"The hoop dance originally a healing ceremony. It was originated in Taos, New Mexico and it signifies nature, man and the circle of life."(14)
"箍舞原本愈合的仪式。它最初是在新墨西哥州的陶斯和它标志着自然、 人与生活圈"。
Her brother, Nakota, was the first hoop dancer to perform in "Totem." The show's creators wanted him because they believed his dance worked extremely well with the idea of evolution.(15)
她的哥哥,Nakota,是第一次的箍舞蹈家,要执行的"图腾"。节目的创作者想让他因为他们认为他舞蹈极好与进化论的思想工作。
Francis Jalbert is a publicist for "Totem."(16)
弗朗西斯 · 贾尔伯特是可悲"图腾"。
"The show is inspired by many ancient civilizations and their views on how we ended up on Earth."(17)
"显示启发许多古代文明和他们对我们如何结束了就是在地球上的意见"。
"Totem" includes the "flying" acts normally found in Cirque du Soleil productions. Olli Torkkel was a gymnast in his native Finland before joining the show as an acrobat.(18)
"图腾"包括通常在 du Soleil 作品中找到的"飞行"行为。(Olli rehn) Torkkel 加入 acrobat 作为放映之前是他本机芬兰体操。
"I saw Cirque shows on TV in Finland when I was a little kid, and I got really excited about how they looked. I decided a long time ago that I wanted to try to apply, I wanted to be a part of it."(19)
"我看见魄显示在芬兰电视上,当我还是一个小孩,我真的很兴奋的样子。我决定很久以前,我想尝试应用,我想成为它的一部分。
There are fifty-two performers in "Totem" from all over the world. But it takes many more people to keep the show on the road.(20)
五十二名表演者中有"图腾"从世界各地。但这需要更多的人继续放映的道路上。
As Francis Jalbert notes, it takes three people to care for the costumes worn by the performers.(21)
弗朗西斯 · 贾尔伯特指出,花三人照顾演员所穿的服饰。
"Because you can imagine, with all of the acrobatic acts that are performed on stage, there is a lot of rip and tear that goes into those costumes."(22)
"因为你可以想象,与所有的杂技的行为,在舞台上,执行有大量的 rip,进入这些服装的眼泪。
After the performances in Washington have ended, the costumes will be put in folding cases.(23)
在华盛顿演出已经结束后,便会处于服装折叠的案件。
In fact, everything under the tent, including the tent itself, will be taken down and loaded into sixty-four trucks.(24)
事实上,一切尽在帐篷里,包括帐篷本身,将关闭并加载到六十四个卡车。
The show and its performers will move on to create magic under the big top in another city.(25)
显示和其执行者将移动创建大顶下的魔术在另一个城市。
Very Good Gouda(26)
很好的黄油
Food lovers know Gouda cheese was first made in the Netherlands.(27)
美食爱好者知道田家首次在荷兰。
But for the past twenty years, a group of religious workers has been making and selling their own version of Gouda in the eastern United States. Christopher Cruise has more.(28)
但过去二十多年来,一群宗教工作者已制作并出售自己版本的美国东部的黄油。克里斯托弗 · 克鲁斯还有更多。
​​​​Every day, thirteen nuns gather for prayer at Our Lady of the Angels Monastery in the Blue Ridge Mountains of Virginia. Theirs is a simple, Christian life.(29)
每一天,十三个尼姑聚集在弗吉尼亚州蓝脊山的天使寺圣母祈祷。他们是一种简单、 基督教的生活。
They praise God and study Catholic teachings. They also follow the Benedictine tradition of combining prayer with work.(30)
他们赞美上帝和研究天主教教义。他们还按照本笃会传统的祈祷与工作相结合。
Sister Barbara Smickel helped to establish the monastery twenty-five years ago. She says work may not be the most important part of their life, but it is important.(31)
姐姐芭芭拉 Smickel 帮助建立 25 年前的寺院。她说: 工作可能不是最重要的部分,他们的生活,但很重要。
"That we use our bodies and the gifts God has given us of mind and heart and body to support ourselves."(32)
"我们使用我们的身体和上帝恩赐给了我们的头脑和心脏和机构,以支持自己。"
The women support themselves by making cheese on a farm down the hill from the monastery grounds. The cheese-making operation was the idea of the farm's former owner.(33)
妇女支持自己制作奶酪从修道院下山的农场。奶酪制作操作是在农场前拥有人的想法。
On this day, the nuns start the process with a truck full of warmed, pasteurized milk. More than twenty-seven hundred liters are pumped into a huge steel vat.(34)
这一天,修女们与一辆卡车充分加热、 巴氏杀菌乳的启动过程。20-7 百升以上被注入巨大的钢增值税。
Sister Maria Gonzalo-Garcia adds a starter culture to the container.(35)
姐姐玛丽亚 · 贡萨洛 · 加西亚向容器添加初学者文化。
This speeds the process of turning milk into cheese. Mechanical equipment beats the mixture. After half an hour, Sister Maria adds what is called a synthetic enzyme.(36)
这将加快速度牛奶变成奶酪的过程。机械设备跳动混合物。后半小时,姐姐玛丽亚将添加什么叫做合成的酶。
It separates the milk into solids and liquid.(37)
它将分为固体和液体牛奶。
This is Sister Barbara Smickel.(38)
这是姐姐芭芭拉 Smickel。
"This is the magic time because it either sets up and turns into cheese or it doesn't. This is the time when we pray, that it does happen."(39)
"这是魔术时间,因为它设置并将变成奶酪或不是。"这是当我们祈祷的时候,它不会发生。
Today, the magic works. The cheese mixture is pumped into a large vat. The mixture is pressed into a solid block. At this point, a machine could do the work.(40)
今天,神奇的作品。乳酪混合物注入到大型的增值税。混合到一个实心块被按下。在这一点上,一台机器可以做这项工作。
But the nuns like to do almost everything by hand.(41)
但修女们喜欢用手做几乎任何事情。
They separate, weigh and prepare the cheese for a final pressing. Sister Barbara says this is a community effort.(42)
在单独的、 重量及奶酪准备最后的紧迫。姐姐芭芭拉说这是一项社会努力。
"We saw a video one time of cheese made in a big factory in Holland, all computerized.(43)
"奶酪在荷兰,所有电脑化的大工厂制造的一次我们看到一个视频。
And my comment was 'poor, little cheese, never touched by human hands.' So ours is all day long, touched by human hands."(44)
我的评论是可怜的小奶酪,从未接触过的人的手。所以我们整天都是,触动了人类的手。"
The one kilogram wheels of buttery yellow cheese are placed in salty water. Then they are aged in a cool storage room, and covered in wax before being shipped out.(45)
一公斤车轮的牛油黄色奶酪放在咸水中。然后他们岁在蓄冷的房间里,并被运出之前蜡中涵盖。
The nuns do most of their business by mail order. But people can also make purchases directly from the monastery.(46)
修女们通过邮购做他们的业务的大部分。但人们可以直接从该寺还使购买。
Eric Gertner buys three hundred to four hundred wheels a year. He sells the cheese at his specialty food store in the nearby city of Charlottesville.(47)
Eric 盖特内尔买三百年至四百年车轮一年。他在夏洛茨威尔附近城市他专业食品商店卖奶酪。
"We carry the monastery Gouda because the story behind it is really so compelling. We have right here in our backyard a cheese made in ages-old monastic tradition.(48)
"我们携带寺黄油,因为它的故事真的是如此令人信服。我们这儿有在我们的后院古老寺院传统中所作的奶酪。
And they're doing this to support and sustain their spiritual practice so it's just such a beautiful story. And then the cheese is delicious in and of itself."(49)
他们做这支持和维持他们修行,所以它是只是这种美丽的故事。然后奶酪是美味本身。
Sister Barbara Smickel understands the feeling.(50)
姐姐芭芭拉 Smickel 了解这种感觉。
"I think people buy it because it's good, but also because they feel a certain solidarity with our way of life and want to support it in the way they can.(51)
姐姐芭芭拉 Smickel 了解这种感觉。
We try to put a lot of that love and prayer into the cheese. We say that's the secret ingredient."(52)
"我认为人买它,因为它是好的但也因为他们觉得声援我们的生活方式,想要支持的方式他们可以。
In more than twenty years of cheese-making, the nuns have never had any bad Gouda. Call it luck…or the power of prayer.(53)
我们尝试将很多的爱和祈祷放入奶酪。我们说这是秘密的成分。
What's On Your iPod?(54)
在二十多年的奶酪制作,修女们从未有过任何坏的黄油。调用运气......或祈祷的力量。
For our music piece this week, on American Mosaic, we decided to ask the experts: American teenagers.(55)
关于你的 iPod 是什么?
We wanted to know what they were listening to right now; what was on their iPods.(56)
我们的音乐一角本周,美国马赛克,我们决定询问专家: 美国青少年。
Reporter Caty Weaver talked to some young people at a Starbucks in Arlington, Virginia and at a nearby high school.(57)
我们想要知道他们听现在 ;什么是他们的 Ipod。
"What's your name?"(58)
记者维可跟一些年轻人在弗吉尼亚州阿灵顿的一家星巴克和附近的高中。
"My name's Colson."(59)
"你的名字是什么?"
"Who's the most recent band or musician you put on your iPod?"(60)
"我的名字正企图撬。"
"That would be 'Lil' B. It's kind of in the category of comedy-rap."(61)
"这是 '让' B.它是种喜剧 rap 的类别中。"
Colson described 'Lil' B as "based." We told the ninth grader that we did not know what that meant.(62)
正企图撬描述 '让' B 作为"基础"。我们告诉第九年级我们不知道什么意思的。
"Based in an adjective. A positive one."(63)
"设在一个形容词。一种积极。"
Colson suggested we play the 'Lil' B song "Wonton Soup." We listened to it. There was no way we could clean that song up enough for broadcast.(64)
正企图撬建议我们发挥 '让' B 歌"馄饨汤"。我们听取了它。没有我们可以清洁足够播放这首歌的方法。
So here is Lil B with "I Seen That Light" from his album "I'm Gay (I'm Happy)."(65)
所以这里是让 B 与"我所见,光"他专辑"我是的同性恋 (我快乐)。"
​​We spoke next with Jessie, a year ahead of Colson at Arlington's Yorktown High School. She said she likes alternative rock and country.(66)
我们正企图撬在阿灵顿的约克高中提前一年与燕,谈下一步。她说她喜欢另类摇滚和国家。
"I do a lot of My Chemical Romance or, like, Toby Keith."(67)
"我做了很多我的化学浪漫,或像托比基思。"
"That is so eclectic. I mean, they are like the opposite of each other. So what My Chemical Romance song would you suggest I play this week?"(68)
"这是如此折衷。我的意思是,它们就像彼此相反。所以我的化学浪漫歌曲的将你建议我玩本周吗?"
"I really like "Planetary Go."(69)
"我真的很喜欢"行星去。"
Gabe is a sixteen year old friend of both Jessie and Colson.(70)
Gabe 是燕和正企图撬的十六岁的朋友。
"My favorite music right now is either Jimi Hendrix, Pink Floyd, or Bob Marley."(71)
Gabe 是燕和正企图撬的十六岁的朋友。
We thanked Gabe for the classic rock choices. But we wondered why he happened to look back in time for good music.(72)
"我最喜爱的音乐都现在是了吉米、 弗洛伊德、 或鲍勃 · 马利。"
"It's really just…it's what I like to play on the guitar. And, that's what appeals to me."(73)
我们感谢 Gabe 经典摇滚的选择。但我们不知道为什么他发生了好音乐的时间回头看看。
Gabe suggested we give a listen to Bob Marley perform "Stir It Up." We were happy to honor the request.(74)
"真的只是......这是我喜欢玩吉他。以及是什么吸引我。
Finally, we spoke with Amanda. The eleventh grader had just finished exercising at Yorktown with two of her friends.(75)
Gabe 建议我们给听着向鲍勃 · 马利执行"搅动它。"我们很高兴,该请求。
She has been listening a pretty far out band --- like far out in the Atlantic Ocean.(76)
最后,我们采访了阿曼达。第十一届平地机刚做完两个她的朋友们在约克行使。
"Well the last music that I listened to was "Of Monsters and Men" which is an Icelandic group. I just downloaded their song "Mountain Sound."(77)
她已一直听漂亮远出带---像远大西洋。
And here it is.(78)
"我听过的最后一个音乐是"怪物和男人"这是冰岛的组。我刚刚下载他们的歌"山的声音 」。
I'm June Simms. This program was written and produced by Caty Weaver. Join us again next week for music and more on AMERICAN MOSAIC in VOA Special English.(79)
而这里是。
All Articles fetched from Voice of America RSS (Really Simple Syndication) feeds and copyrighted by voanews.com