Bringing Seeds of Life to CAR
2014-02-13 18:43:37
---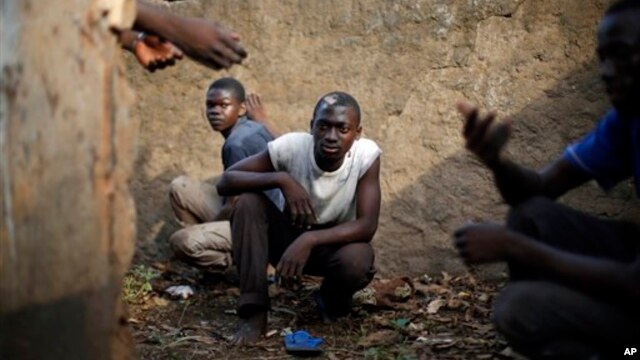 ---
The U.N. Food and Agriculture Organization says the ongoing fighting and violence in Central African Republic are pushing the country toward a full-scale food crisis.(1)
联合国粮食及农业组织表示正在进行的战斗和暴力中非共和国正在推动国家往一个全面的食品危机。
Despite the insecurity, the FAO says it wants to ensure that crops are planted before the rainy season arrives.(2)
尽管不安全的情况,粮农组织说它想要确保作物种植,在雨季到来之前。
The FAO says conflict is putting much of the country's population at risk of not getting enough to eat.(3)
粮农组织说冲突使很多国家的人口面临风险没有得到足够的食物。
Dominique Burgeon, director of the agency's Emergency and Rehabilitation Division, said,(4)
多米尼克 · Burgeon,该机构的应急和恢复司,说: 主任
"We are extremely concerned with the overall humanitarian situation in CAR and especially the food security sector where up to 1.6-million people are currently food insecure out of a total population of 4.6-million, which is a huge share of the population that is food insecure."(5)
"我们是极度关注整个人道主义局势在车里,尤其是食品安全部门凡达 160 万人目前粮食安全总人口 460 万,是一个巨大的共享的人群,是粮食安全的."
The FAO describes the situation in the capital Bangui as "increasingly worrying," but says it is "even more acute" elsewhere in the country.(6)
粮农组织的描述作为"越来越令人担心",非首都班吉的局势,但说它是"甚至更严重的"其他地方在国家。
The problem began early last year as mostly Muslim Seleka rebels toppled President Francois Bozize.(7)
作为主要穆斯林 Seleka 叛军推翻总统弗朗索瓦 · 博齐泽去年年初开始出现问题。
Communal violence erupted in December after Seleka leader Michel Djotodia became interim president and rebels began attacking civilians.(8)
在 12 月后 Seleka 领袖米歇尔 · Djotodia 成为了临时总统和叛军开始攻击平民社区暴力爆发了。
Djotodia was pressured to step down, but the violence has continued under the new interim leader Catherine Samba-Panza.(9)
Djotodia 迫于压力下台,但暴力继续在新的临时领导人凯瑟琳桑巴-潘萨下。
Now, however, militias, known as anti-balaka, have waged a campaign of revenge attacks.(10)
现在,然而,称为反-balaka 的民兵有发起报复性攻击的运动。
Human rights groups say the militias – who appear to be a mix of Christians and animists – are trying to drive all Muslims out of the country.(11)
人权团体说,民兵 — — 他们似乎是基督徒和泛灵论者的混合 — — 试图开车所有穆斯林都不在国内。
Burgeon said that the violence has disrupted agriculture for about a year.(12)
发芽说暴力干扰了大约一年的农业。
"For the all of last year people were constantly displaced within the country – couldn't crop their land.(13)
"为所有的人不断在国内 — — 流离失所的最后一年不能裁剪他们的土地。
When they could cultivate their land it was sometimes looted, burned -- and they also lost all their agricultural assets and tools, the seeds.(14)
他们可以培养他们的土地的时候它有时被抢,烧了 — — 和他们也失去了其所有的农业资产和工具、 种子。
So this has meant that they had very little harvest last year."(15)
所以,这意味着他们去年有非常小的收获。"
There's concern that the "hunger gap" in CAR will come early this year. It's a time when food stocks are low prior to the next harvest.(16)
有"青黄不接"的车会来今年年初的关注。它是当粮食库存较低在下一个收获前的时间。
"In [a] normal year the hunger gap would start in July and last until September / October.(17)
"[A] 正常年份,年饥饿的差距将会开始在 7 月和最后直到 9 月 / 10 月。
This year the hunger gap is expected to start as early as February, early March, leaving them in a very difficult food security situation until the next harvest," he said.(18)
饥饿的差距预计今年早在 2 月,三月初,开始离开他们在非常困难的粮食安全情况直到下一个收获,"他说。
The FAO's initial plan is to support the country's staple crops.(19)
粮农组织的初步计划是支持国家的主食作物。
Burgeon said, "One of the main crops for them is maize. So what we are currently trying to do is to support the next planting season for maize.(20)
发芽说,"他们的主要农作物之一是玉米。所以目前我们要做是玉米的支持下种植季节。
And that is due to start in the south of the country in early March. And we believe this is absolutely critical to support the children.(21)
即在 3 月初开始在该国南部。我们认为这是绝对重要,支持孩子们。
And then to go on a bit later on and support sorghum planting season.(22)
然后稍后继续下去,并支持高粱种植季节。
But it is super important that we support this planting season with the seeds, but also with the tools, in time for the farmers to prepare their land."(23)
但它是超级重要的我们是支持这种植季节的种子,但也使用的工具,在准备他们的土地的农民的时间"。
Burgeon added that if the FAO and its local partners fail to support CAR farmers now, the population will need "protracted food assistance." That, he said, would be a "terrible situation."(24)
发芽补充说如果粮农组织和当地伙伴失败,现在支持车农民,人口将需要"旷日持久粮食援助"。他说,就是"可怕的情况"。
An FAO assessment in December found that 78-percent of CAR farmers planned to either grow crops on their land or on land near the make-shift camps where they've sought shelter.(25)
在 12 月的粮农组织评估发现 78%的车农民计划要么种植作物或他们已经在其中寻求庇护,使 shift 难民营附近的土地上他们的土地。
But that depends on their having seeds and tools.(26)
但这取决于他们有种子和工具。
"For the people agriculture is the only option.(27)
"为民农业是唯一的选择。
Therefore, they plan to crop their land and that's why we want to assist them as much as we can -- of course, not exposing them to undue risk.(28)
因此,他们计划要裁剪他们的土地,这就是为什么我们想要帮助他们一样我们可以--当然,不使它们暴露于不必要的风险。
But it's clear that when they want to do it – if they have the opportunity to do it – we want to be there," he said.(29)
但很显然,当他们想要做 — — 如果他们有机会去做 — — 我们想要在那里,"他说。
The Food and Agriculture Organization is in the process of rebuilding CAR's seed stocks. It's collecting seeds from neighboring countries, as well as Nigeria.(30)
粮食及农业组织正在重建汽车的种子储备。它从周边国家以及尼日利亚收集种子。
All this, of course, carries a price tag. Burgeon said the overall cost will be $39-million, $10-million of which is needed now.(31)
这一切,当然,运载一个的价格标签。发芽说整体成本将美元 3900 万,现在需要在其中 1000 万美金。
"If we wait for too long, the rainy season will start. Transport will be extremely difficult and therefore it will complicate our operation.(32)
"如果我们等太久,雨季将开始。运输将会非常困难,因此它会使我们的操作复杂化。
Therefore, while we are going for road transportation now, we may have to use air assets in the coming weeks."(33)
因此,虽然我们现在公路运输,我们可能必须使用航空资产在未来几周"。
The FAO estimates 75-percent of the population relies on small-scale agriculture for food and income.(34)
粮农组织的估计,依靠小规模农业食物和收入的 75%的人口。
Another U.N. agency – the World Food Program – has begun airlifting emergency supplies into Central African Republic.(35)
另一个联合国机构 — — 世界食品计划 — — 已开始空运到中非共和国紧急用品。
The first flight carried nearly 2,000 metric tons of food – enough for 150,000 people for one month. In all, the WFP plans 25 flights over the next four weeks.(36)
第一次飞行进行了近 2 000 吨食品 — — 足够一个月有 15 万人。在所有,世界粮食计划署计划在接下来的四个星期 25 航班。
The WFP resorted to airlifts because insecurity along the road from Cameroon to Bangui made truck drivers hesitant to make the trip to Bangui.(37)
世界粮食计划署诉诸空运,因为不安全感从喀麦隆到班吉的路沿做卡车司机犹豫到班吉,使旅游。
The few trucks that have arrived in recent weeks had an armed escort.(38)
最近几个星期到几卡车了武装的护送。
All Articles fetched from Voice of America RSS (Really Simple Syndication) feeds and copyrighted by voanews.com