Many Species Risk Extinction
2015-06-23 15:46:51
---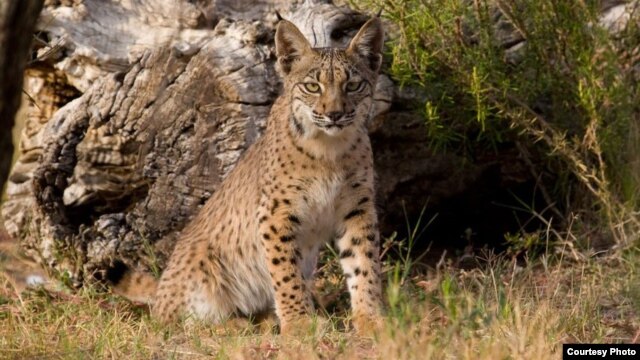 ---
While progress has been made to preserve endangered animal, plant and other species, a new report said successes are being overshadowed by declines.(1)
虽然已取得了进展,以保护濒临绝种的动物、 植物和其它物种,一份新的报告说,成功被黯然失色下降。
The International Union for Conservation of Nature warned many species face lethal threats.(2)
国际自然保护联盟警告说,许多物种面临致命的威胁。
The IUCN is the world's oldest and largest global environmental network.(3)
世界自然保护联盟是世界上最古老、 规模最大的全球环境网络。
It has more than 77,000 species on its Red List and warns that nearly 23,000 of them are threatened by extinction. Some 830 are listed as being extinct.(4)
它已超过 77,000 物种红色名单上,并警告说,近 23,000 的他们受到灭绝的威胁。一些 830 被列为灭绝。
The list indicates how fast the world is losing biodiversity.(5)
该列表指示世界如何快速丧失生物多样性。
Craig Hilton-Taylor -- head of the organization's Red List Unit -- said humans have been getting better at preserving species.(6)
克雷格 · 希尔顿-泰勒 — — 团长组织红名单单位 — — 说人类得到更好地保护物种。
"Yes, we have. We have built up quite a good set of tools and techniques for conserving species and their habitats.(7)
"是的我们有。我们已经建立了相当一套好的工具和技术对保护物种和它们的栖息地。
We know in many cases what we should do and how to do it.(8)
我们知道在很多情况下我们应该做什么和怎么做。
We are constantly surprised though by new emerging threats, which take us by surprise.(9)
我们对不断吃惊虽然新新出现的威胁,使我们感到吃惊。
But after some research and hard work we soon work out ways of dealing with new threats as they emerge."(10)
但一些研究和艰苦的工作后我们很快就工作应对新威胁的方式随着他们的出现。"
But he said knowing what to do is not the issue.(11)
但他说: 知道要做什么不是问题。
The Red List points out where to take action and what species are at risk.(12)
红列表指出了在哪里采取行动和物种处于危险。
"The big issue really is to try and get enough people and resources to actually do something about it – to get the governments to have enough political will to invest in conservation and also engaging in the general public as well.(13)
"最大的问题真的是尝试并获得足够的人和资源实际做些什么 — — 让政府有足够的政治意愿,投资在养护和也从事一般公众。
So it cuts across all levels of society," he said.(14)
所以它横跨社会各阶层,"他说。
One of the big conservation success stories is the Iberian Lynx in Spain. There were just 52 mature cats in 2002.(15)
在西班牙的伊比利亚猞猁是大养护成功故事之一。2002 年有 52 只是成熟的猫。
Today, there are 156. It may not seem like a lot, but it's enough to remove the Iberian Lynx from the Critically Endangered list.(16)
今天,有 156。它似乎并不像很多,但它足以从极度濒危的列表中删除伊比利亚猞猁。
Another example is the Guadalupe Fur Seal. It was twice thought to be extinct.(17)
另一个例子是瓜达卢佩的海豹。它两次被认为已经灭绝。
There were 20,000 in 2010. On the other hand, 99 percent of the tropical Asian slipper orchids – a prized ornamental plant – are threatened with extinction.(18)
在 2010 年有 20,000。另一方面,99%的热带亚洲拖鞋兰 — — 珍贵的观赏性植物 — — 正濒临灭绝。
That's due to a huge illegal trade in the slipper orchids and habitat loss due to development.(19)
这是由于拖鞋兰和栖息地丧失发展巨大的非法贸易。
Hilton-Taylor said, "Most people around the world, they know orchids.(20)
希尔顿-泰勒说,"在世界各地的大多数人,他们知道兰花。
They will either be growing them or will have seen them or will have them in their house as cut flowers.(21)
他们要么会增长他们或会看到他们或让他们做在他们的房子作为切花。
They are truly spectacular flowers." And then there's the African lion. It's on the IUCN's Vulnerable List.(22)
他们是真正壮观的花。然后还有非洲狮。它是在世界自然保护联盟的脆弱的名单上。
"The lion story is quite complicated because lions in southern Africa are pretty well conserved. Most of them are in protected areas.(23)
"狮子故事是相当复杂的因为在南部非洲的狮子很保守。他们大多在保护区内。
There are good conservation policies in place to protect lions in southern Africa. In fact, the southern Africa population is increasing.(24)
地方保护在南部非洲的狮子有良好的自然保育政策。事实上,南部非洲人口增长。
But as soon as you move up into East Africa or across to West Africa it's a totally different picture.(25)
但只要你东非移入或移跨越到西非这是一个完全不同的景象。
The lions in West Africa are completely isolated from the rest of African lions -- listed as critically endangered," he said.(26)
在西部非洲狮子完全隔绝非洲狮子 — — 列为极度濒危,"他说。
The lions face habitat loss, poaching and conflict with humans. Prey animals are on the decline in some areas causing lions to kill livestock.(27)
狮子面临栖息地的丧失,偷猎和与人发生冲突。在一些地区引起了狮子杀死牲畜,捕食的动物都在下降。
Hilton-Taylor said that the International Union for Conservation of Nature takes a slow approach before declaring a species extinct.(28)
希尔顿-泰勒说,国际自然保护联盟把一个缓慢的办法之前宣布一个物种灭绝。
"So, for example, one of the species on the list this time was a species of orchid from Madagascar.(29)
"所以,例如,名单上的物种之一这次从马达加斯加兰花物种。
It was last seen in 1898 – over a hundred years ago.(30)
最后看到它是在 1898 年 — — 一百多年前。
But we still don't declare it extinct because there are still little patches of forest that haven't been surveyed properly.(31)
不过,我们仍不宣布它灭绝因为有仍小补丁的还没有进行正确的森林。
There's a remote chance it may still be living on a tree top somewhere that we just haven't looked yet.(32)
有是一个远程的机会,它可能仍生活在树梢,我们只是还没看。
So, it takes a long time to declare something extinct."(33)
所以,它需要很长时间才能宣布灭绝的东西。"
A recent study in the journal Science Advances says the sixth mass extinction in the Earth's history has begun.(34)
最近一项研究在科学进展 》 杂志上说已经开始了地球历史上的第六次大规模物种灭绝。
The study, like the IUCN, says humans are the driving force behind unprecedented extinction rates.(35)
书房,就像世界自然保护联盟,说人类是空前的灭绝率背后的驱动力。
For example, since 1900, nearly 480 vertebrate species have gone extinct.(36)
例如,自 1900 年以来近 480 脊椎动物物种已经灭绝。
The IUCN reported no new species have been declared extinct, but 14 have been assessed as Critically Endangered.(37)
世界自然保护联盟报告说没有新物种已被宣布为灭绝,但 14 有被评定为极度濒危。
"The whole acceleration of the extinction is very much a human factor.(38)
"整个加速灭绝的是很多人为因素。
So, it's the demand for land for agriculture; building cities, roads. Extraction of minerals has huge impacts. Pollution events.(39)
因此,它是可供农业; 土地需求建设城市道路。提取的矿物已产生巨大的影响。污染事件。
So, there are a whole lot of different activities from people that reduce population sizes, reduce ranges, that have impacts on these species and drive them towards extinction," he said.(40)
所以,有大量的活动不同于人,减少人口规模,减少范围,对这些物种产生的影响和推动他们走向灭绝,"他说。
Hilton-Taylor said environmental legislation can help preserve species, but he says much more needs to be done to protect habitats.(41)
希尔顿-泰勒说环境立法可以帮助保护的物种,但是他说还有很多工作要做保护的栖息地。
"You can go around and set areas of land aside as protected areas, as national parks with nature reserves.(42)
"你可以四处走动并设置的土地一边一样保护的区、 国家公园与自然保护区。
And make sure those networks are well connected to each other so species can move between different areas.(43)
并确保这些网络是彼此紧密相连的所以物种可以不同的区域之间移动。
But you can't conserve all the land.(44)
但你不能保护所有的土地。
You have to look at how we manage the land outside of the protected areas.(45)
你要看看我们如何管理保护区以外的土地。
So, putting into place effective management and restoration projects can restore habitats and ecosystems back to how they lived before."(46)
所以,投入地方有效的管理和恢复项目可以恢复栖息地,生态系统回到他们之前的生活。
He said sometimes farmers need to be compensated not to cultivate their land and allow the natural habitat to remain. This was done to save the Iberian Lynx.(47)
他说,有时农民需要补偿,不以培养他们的土地,并允许自然栖息地继续。这样做的目的是为了保存伊比利亚猞猁。
And sustainable fishing methods may help save Gobies, one of the largest families of marine fish.(48)
可持续的捕鱼方法可能有助于节省鰕虎鱼,海水鱼最大的家族之一。
Many of their coral reef homes have disappeared and they are more vulnerable to invasive Lionfish.(49)
许多珊瑚礁家园已经消失,更易受创的狮子鱼。
All Articles fetched from Voice of America RSS (Really Simple Syndication) feeds and copyrighted by voanews.com