Where Did the English Language Come From?
2012-12-25 17:35:15
---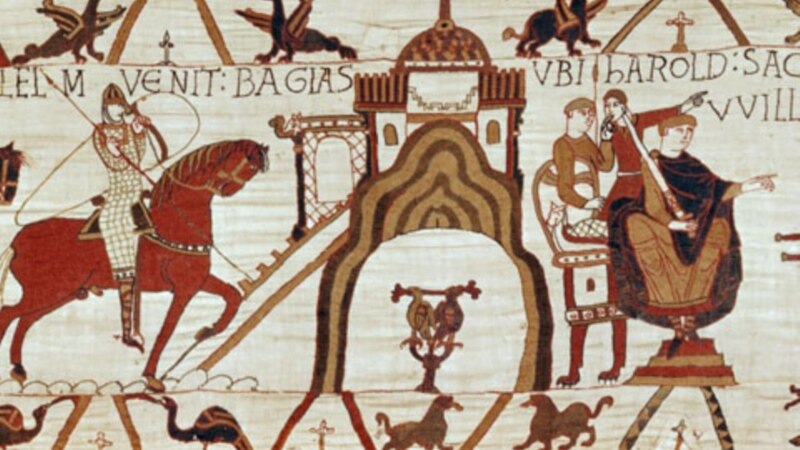 ---
This is Steve Ember. (1)
这是史帝文安博。
And this is Shirley Griffith with the VOA Special English program EXPLORATIONS.(2)
而这是美国之音特别英语节目探索与雪莉 · 格里菲斯。
Today we present the first of two programs about the history of the English Language.(3)
今天我们介绍两个程序对英语语言的历史第的一。
More people are trying to learn English than any other language in the world. English is the language of political negotiations and international business.(4)
更多的人正在学习英语,比世界上任何其他语言。英语是政治谈判和国际商务语言。
It has become the international language of science and medicine. International treaties say passenger airplane pilots must speak English.(5)
它已成为国际语言的科学和医学。国际条约说客机飞行员必须讲英语。
English is the major foreign language taught in most schools in South America and Europe. School children in the Philippines and Japan begin learning English at an early age.(6)
英语是南美洲和欧洲的大部分学校在教授的主要外国语言。在菲律宾和日本学校孩子们开始在幼年学习英语。
English is the official language of more than seventy-five countries including Britain, Canada, the United States, Australia, and South Africa.(7)
超过七十五个国家包括英国、 加拿大、 美国、 澳大利亚、 和南非等国的官方语言为英语。
In countries where many different languages are spoken, English is often used as an official language to help people communicate. India is good example.(8)
在国家在许多不同的语言,往往使用英语作为官方语言,帮助人们进行沟通。印度是很好的例子。
English is the common language in this country where at least twenty-four languages are spoken by more than one million people.(9)
英语是共同的语言,在这个位置至少二十四个语言由超过 100 万人的国家。
Where did the English language come from? Why has it become so popular? To answer these questions we must travel back in time about five thousand years to an area north of the Black Sea in southeastern Europe.(10)
英语语言从何而来?它已变得如此受欢迎呢?要回答这些问题,我们必须回到过去的时间大约五千年前往欧洲东南部黑海以北的地区。
Experts say the people in that area spoke a language called Proto-Indo-European. That language is no longer spoken. Researchers do not really know what it sounded like.(11)
专家说,人民在这领域发言称为原始印欧语系的语言。不再讲这种语言。研究人员也不知道它听起来象。
Yet, Proto-Indo-European is believed to be the ancestor of most European languages. These include the languages that became ancient Greek, ancient German and the ancient Latin.(12)
然而,印欧语系被认为是大多数欧洲语言的祖先。这些包括的语言,成为了古希腊、 古德语和古拉丁语。
Latin disappeared as a spoken language. Yet it left behind three great languages that became modern Spanish, French and Italian.(13)
拉丁美洲作为口语语言消失了。然而它留下三个伟大的语言,成为现代西班牙语、 法语和意大利语。
Ancient German became Dutch, Danish, German, Norwegian, Swedish and one of the languages that developed into English.(14)
古代德语成为荷兰、 丹麦、 德国、 挪威、 瑞典和发展成英语的语言之一。
The English language is a result of the invasions of the island of Britain over many hundreds of years. The invaders lived along the northern coast of Europe.(15)
英语语言是过去数百年来的入侵大不列颠岛的结果。侵略者住欧洲北海岸。
The first invasions were by a people called Angles about one thousand five hundred years ago. The Angles were a German tribe who crossed the English Channel.(16)
对第一次入侵被称为角度约一千五一百年前的人。角度是一个德国的部落人越过英吉利海峡。
Later two more groups crossed to Britain. They were the Saxons and the Jutes.(17)
后来两个更多的组越过到英国。他们是撒克逊人和朱特人。
These groups found a people called the Celts, who had lived in Britain for many thousands of years. The Celts and the invaders fought.(18)
这些组发现叫凯尔特人,在英国已经生活了几千年。凯尔特人和入侵者作战。
After a while, most of the Celts were killed, or made slaves. Some escaped to live in the area that became Wales.(19)
过了一会儿,大部分的凯尔特人被杀害,或作奴隶。一些转义成为威尔士地区生活。
Through the years, the Saxons, Angles and Jutes mixed their different languages. The result is what is called Anglo-Saxon or Old English.(20)
多年来,撒克逊人、 角度和朱特人混合了他们不同的语言。结果是盎格鲁撒克逊或旧英文叫什么。
Old English is extremely difficult to understand. Only a few experts can read this earliest form of English.(21)
老英语是极难理解的。仅有几位专家可以读取此最早形式的英语。
Several written works have survived from the Old English period. Perhaps the most famous is called Beowulf. It is the oldest known English poem.(22)
几个书面的作品从旧英语期间生存下来。也许,最著名的被称为 Beowulf。它是最古老的已知英文诗。
Experts say it was written in Britain more than one thousand years ago. The name of the person who wrote it is not known.(23)
专家说,在英国写于一千多年前。人写了它的名称是未知的。
Beowulf is the story of a great king who fought against monsters. He was a good king, well liked by his people. (24)
Beowulf 是国王的一个伟大,他的怪物进行斗争的故事。他是个好国王,很喜欢他的人民。
Listen as Warren Scheer reads the beginning of this ancient story in modern English.(25)
听如沃伦 Scheer 读取此现代英语中的古代故事的开始。
So. The Spear-Danes in days gone by and the kings who ruled them had courage and greatness.(26)
这么矛-丹麦人在过去的日子和国王统治他们有勇气和伟大。
We have heard of those princes' heroic campaigns.(27)
我们听到的那些王公英勇运动。
There was Shield Sheafson, scourge of many tribes,a wrecker of mead-benches, rampaging among foes.(28)
有盾 Sheafson,米德-长椅,清障的许多部落,灾祸肆虐的敌人之间。
This terror of the hall-troops had come far.(29)
这种恐怖的大厅部队已经远离。
A foundling to start with, he would flourish later on as his powers waxed and his worth was proved, In the end each clan on the outlying coasts beyond the whale-road had to yield to him and begin to pay tribute. That was one good king.(30)
弃儿开始时,他会蓬勃生长稍后作为他的权力交替和值得他得到了证实,最终每个家族对鲸鱼-路的那边离海岸不得不屈服于他,并开始表示敬意。这是一个好国王。
The next great invasion of Britain came from the far north beginning about one thousand one hundred years ago. Fierce people called Vikings raided the coast areas of Britain.(31)
下一个伟大入侵英国的来自遥远的北方开始一个一千一百年前。激烈的人称为维京人搜查英国的海岸的地区。
The Vikings came from Denmark, Norway and other northern countries. They were looking to capture trade goods and slaves and take away anything of value.(32)
维京人来自丹麦、 挪威和其他北方国家。他们正在找来捕获货物贸易和奴隶和拿走价值的任何东西。
In some areas, the Vikings became so powerful they built temporary bases. These temporary bases sometimes became permanent. Later, many Vikings stayed in Britain.(33)
在一些地区,维京人变得如此强大,他们建了临时基地。有时,这些临时基地成为常任理事国。后来,许多维京人留在英国。
Many English words used today come from these ancient Vikings.(34)
今天使用的许多英语单词来自这些古代维京人。
Words like "sky," "leg," "skull," "egg," "crawl," " lift" and "take" are from the old languages of the far northern countries.(35)
"天空"、"美腿"之类的词"头骨,""蛋,""抓取,""升降机"和"采取"是从远北方国家的旧语文。
The next invasion of Britain took place more than nine hundred years ago, in ten sixty-six. History experts call this invasion the Norman Conquest. William the Conqueror led it.(36)
下一步入侵英国超过九一百年前,十个有六十六中发生。历史专家呼吁此入侵诺曼征服。征服者威廉导致它。
The Normans were a French-speaking people from Normandy in the north of France. They became the new rulers of Britain. These new rulers spoke only French for several hundred years.(37)
诺曼人是诺曼底法国北部讲法语的人。他们成了新的统治者的英国。这些新的统治者法语只有几个几百年。
It was the most important language in the world at that time. It was the language of educated people. But the common people of Britain still spoke Old English.(38)
在当时,它是世界上最重要的语言。它是人的受过教育的语言。但英国常见人仍讲老英语。
Old English took many words from the Norman French.(39)
老英语从诺曼法语了许多字。
Some of these include "damage," "prison," and "marriage." Most English words that describe law and government come from Norman French.(40)
其中包括"损害"、"监狱"和"婚姻"。描述法律和政府的最英语单词来自诺曼法语。
Words such as "jury," "parliament," and "justice."(41)
"陪审团,"这种词语"议会"和"正义"。
The French language used by the Norman rulers greatly changed the way English was spoken by eight hundred years ago. English became what language experts call Middle English.(42)
使用由诺曼统治者大大的法国语言改变由八一百年前说英语的方式。英语成为什么语言专家称为中古英语。
As time passed, the ruling Normans no longer spoke true French. Their language had become a mix of French and Middle English.(43)
随着时间的流逝,诺曼人执政的不再讲真实的法语。他们的语言已成为法国和中古英语的混合。
Middle English sounds like modern English. But it is very difficult to understand now. Many written works from this period have survived.(44)
中古英语听起来像是现代英语。但它是很难理解现在。从这一时期的许多书面的作品有幸存下来。
Perhaps the most famous was written by Geoffrey Chaucer, a poet who lived in London and died there in fourteen hundred.(45)
或许最著名是写的杰弗里 · 乔叟,住在伦敦,在十四百那里死亡的诗人。
Chaucer's most famous work is "The Canterbury Tales," written more than six hundred years ago.(46)
乔叟的最有名的作品是 《 坎特伯雷故事,"超过六百年前写的。
"The Canterbury Tales" is a collection of poems about different people traveling to the town of Canterbury.(47)
《 坎特伯雷故事 》 是不同的人出差到坎特伯雷镇诗的集合。
Listen for a few moments as Warren Scheer reads the beginning of Chaucer's famous "Canterbury Tales." (48)
听一会儿如沃伦 Scheer 读取开始乔叟的著名"坎特伯雷故事"。
Whan that aprill with his shoures soote The droghte of march hath perced to the roote,(49)
焕与他 shoures soote 3 月的 droghte,aprill 神到 roote perced
And bathed every veyne in swich licour of which vertu engendred is the flour;(50)
沐浴着每个中的哪个 vertu engendred 是面粉 ; 开关 licour veyne
Whan zephirus eek with his sweete breeth Inspired hath in every holt and heath…(51)
在每个霍尔特和希思神焕 zephirus eek 与启发他 sweete breeth...
Now listen as Mister Scheer reads the same sentences again, but this time in Modern English.(52)
现在听先生 Scheer 读取相同的句子,再次,但这次在现代英语。
When April with his showers sweet with fruit The drought of March has pierced unto the root , And bathed each vein with liquor that has power to generate therein and sire the flower;(53)
何时他淋浴甜水果三月里的干旱已划破你们根,要和洗澡每 4 月静脉与酒具有的权力,其中生成和陛下花 ;
When Zephyr also has, with his sweet breath, quickened again, in every holt and heath,(54)
当西风号也有,与他甜美的气息,再次,加快在每个霍尔特和希思,
The tender shoots and buds, and the young sun…(55)
嫩笋芽和年轻的太阳...
English language experts say Geoffrey Chaucer was the first important writer to use the English language.(56)
英语语言专家说杰弗里 · 乔叟是第一位的重要作家,使用英语的能力。
They also agree that Chaucer's great Middle English poem gives us a clear picture of the people of his time. (57)
他们也同意乔叟的伟大中古英语诗使我们清楚地了解人的他的时间。
The prologue you just heard describes a group of religious travelers going to Canterbury. To entertain themselves, they agree to tell stories while they travel.(58)
你们刚才听到的序幕描述一群去坎特伯雷的宗教旅行者。以自娱自乐,他们同意他们在旅行期间的故事。
The Knight's Tale is about two men who compete for the love of a beautiful woman. The Miller's Tale is a funny story that tells about a young man who is in love with a married woman. The two play a mean trick on the woman's old husband.(59)
骑士的故事的是女人的两个争夺的一个美丽爱的男人。米勒的故事是一个有趣的故事,讲述了一个年轻人爱上了一个已婚的女人是。这两个在旧的丈夫上播放卑鄙的伎俩。
One of the most famous characters in the series of stories is the Wife of Bath. She is a strong, and opinionated woman who likes to talk about her many adventures in life and marriage.(60)
故事的一系列中最著名的字符之一是浴的妻子。她是一个强,和自以为是的女人很喜欢谈她在生活和婚姻中的许多冒险。
Some of the people described in "The Canterbury Tales" are wise and brave; some are stupid and foolish. Some believe they are extremely important. Some are very nice, others are mean. But they all still seem real.(61)
一些 《 坎特伯雷故事 》 中所述是人的明智和勇敢 ;一些是又笨又傻。有些人认为他们是极为重要的。有些是很好,其他人都是卑鄙的。但他们都似乎仍然真实。
The history of the English language continues as Middle English becomes Modern English, which is spoken today. That will be our story next time.(62)
英语语言的历史继续随着中古英语成为现代英语,今天的发言。下一次,将我们的故事。
All Articles fetched from Voice of America RSS (Really Simple Syndication) feeds and copyrighted by voanews.com