Tragedy at One School, Renewal at Another
2012-12-20 00:40:47
---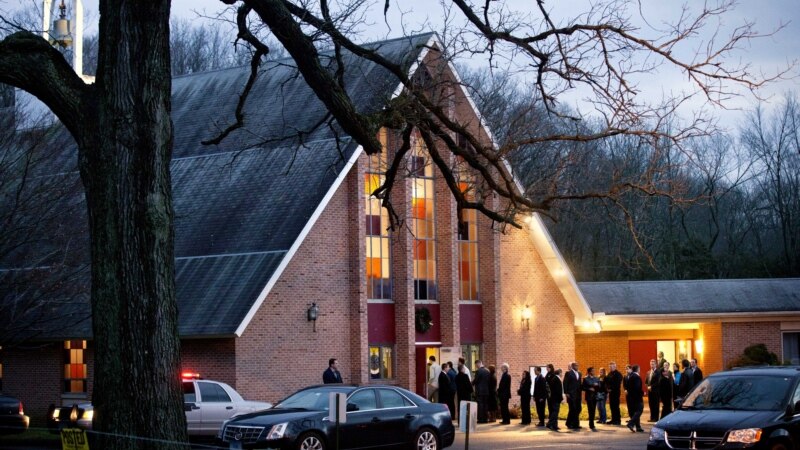 ---
From VOA Learning English, this is the Education Report in Special English.(1)
从美国之音学习英语,这是在特别英语教育报告。
Funerals began this week for the school shooting victims in Newtown, Connecticut.(2)
葬礼开始本周校园枪击受害者在新城,康涅狄格州。
Last Friday a 20-year-old local man killed 20 children, six educators and himself at Sandy Hook Elementary School.(3)
上周五一 20 多岁本地男子打死 20 名儿童、 六名教育工作者和他本人在桑迪胡克小学。
Officials say Adam Lanza used guns owned by his mother after shooting her to death at their home.(4)
官员说,亚当发明用枪在他们家里拍摄她死后他的母亲所拥有的。
The shooting was the second deadliest ever at an American school. In 2007 a student at Virginia Tech killed 32 people and then himself.(5)
射击是第二最致命曾经在美国的学校。2007 年在弗吉尼亚的一名学生打死 32 人,然后他自己。
What happened in Newtown has once again reopened debate about gun control and issues like mental health services. President Obama spoke Sunday at a memorial service in the town.(6)
在新城中发生了什么事再一次重新开启了有关枪支控制和精神健康服务等问题的辩论。主席奧巴馬以星期日在镇里的追悼会上发言。
He said he will use whatever power he has as president "in an effort aimed at preventing more tragedies like this."(7)
他说他将使用他有任何权力作为总统"中旨在防止更多的悲剧,像这样努力"。
On Wednesday, he named Vice President Joe Biden to lead an administration team in developing proposals to reduce gun violence.(8)
上周三,他命名为乔拜登副总统在领导管理团队,在发展中国家减少枪枝暴力的建议。
Students at Sandy Hook Elementary are expected to return to school in a neighboring town in January after winter break. Sandy Hook will remain closed until further notice.(9)
在桑迪胡克小学学生预计将在 1 月寒假回学校隔壁的城镇。桑迪胡克将继续暂停开放,直至另行通知。
In the gunfire last week, a community lost a school for the most tragic of reasons.(10)
在枪声中上个星期,社会失去了一所学校,最悲惨的原因。
Days earlier, another community not very far away regained a school in a story of hope, renewal and the strength of the human spirit.(11)
天前,另一个社区不很远的地方重新获得学校在一个故事中的希望、 重建和人类精神的力量。
Flooding from Hurricane Sandy nearly destroyed Saint Camillus School in the Rockaway area of Queens, in New York City.(12)
几乎从飓风沙水浸毁圣康在纽约市皇后区威地区的学校。
The Catholic school stands just a short distance from the Atlantic Ocean.(13)
天主教学校随时从大西洋只是短的距离。
The more than 200 students and teachers went to another school while Saint Camillus was closed for six weeks.(14)
200 多名学生和教师去另一所学校虽然圣康关闭了六个星期。
​​Many people remain displaced in the area. But the reopening of the school on December 10 was a victory for the community.(15)
很多人留在该地区的流离失所者。但 12 月 10 日重新开放的学校是社会的胜利。
"So good morning boys and girls.(16)
"那么好早上男孩和女孩。
"Good morning, Sister Agnes!"(17)
"早上好,姐姐阿格尼丝!"
Sister Agnes White is principal of Saint Camillus.(18)
姐姐阿格尼丝白色是主要的圣康。
"We're all together. We're back home, and we are ready to start anew."(19)
"我们都在一起。我们回来了,而我们正准备重新开始."
Earlier, Sister Agnes gave cut-out paper stars to students to tape anywhere they wanted on the school walls.(20)
早些时候,姐姐阿格尼丝切纸星星给学生磁带,他们想在学校墙壁上的任何地方。
"Between now and Christmas, this building should be filled with stars, a symbol of light. We all lost light. We know what it's like to be without light.(21)
"现在至圣诞节期间,这座建筑应该充满星星,光明的象征。我们都失去了光明。我们知道它是什么像无光。
But now we have light in this building and we need the light that you're going to put up with the stars, a symbol of the light of Jesus Christ."(22)
但现在,我们这座大厦有了光和我们需要的光,你要忍受了星星,耶稣基督之光的象征。
Parts of the school remain damaged beyond repair. Some students lost their homes as a result of the storm.(23)
学校继续无法修复损坏的部分。一些学生失去家园的风暴。
School secretary Kerry Montero says the message from Hurricane Sandy is clearest in the many recent acts of kindness.(24)
凯瑞 Montero 说来自飓风桑迪的消息是最清晰的许多最近在学校司善良的行为。
"It's touching, you know, the outpouring of help that we've received from everyone. I mean, we've had people from Connecticut, California, Brooklyn, all over the place, coming and helping us."(25)
"它触摸,你知道,源源不断,我们收到了来自任何人的帮助。我的意思是,我们已经从康涅狄格州、 加利福尼亚州、 布鲁克林,人民地方都来和帮助我们。"
All Articles fetched from Voice of America RSS (Really Simple Syndication) feeds and copyrighted by voanews.com