2018-12-14 21:01:24 From VOA Standard English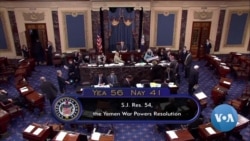 U.S. Secretary of State Mike Pompeo said Friday that he had noted the historic rebuke of longtime ally Saudi Arabia by U.S. lawmakers.
The U.S. Senate on Thursday passed a resolution to end American support for the kingdom's military intervention in Yemen's civil war and another measure condemning the killing of a dissident Saudi journalist.
"We saw the vote yesterday. We always have great respect for what the legislative branch does," Pompeo told reporters in Washington.
"We're in constant contact with members on Capitol Hill so that we understand fully their concerns and do our level best to articulate why our policies are what they are. ".
"President Trump is determined to make sure that we protect America, all the while holding accountable those who committed the heinous murder of Jamal Khashoggi," Pompeo added during a joint press briefing with Defense Secretary Jim Mattis and their Canadian counterparts at the State Department.
Read more »